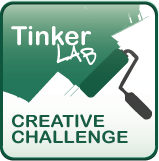 Rachelle at TinkerLab invited us to join her one-year blog party by participating in her cardboard box challenge. What could my kids do with a cardboard box? I asked the boys if they'd like to participate, and I'm glad they said yes. I'm pretty sure I'm not the only person actively pursuing open-ended, process-oriented art with elementary-aged kids, but I haven't yet been able to find anyone else blogging about it. So I'm happy to be part of this project with older kids. (And because all three of my kids participated, this is a longish post.)
So. We had about a week to do this, which means I had to accomplish the bulk of it last weekend, because school takes up so darn much time. At first, V (age 9) wanted to put all the boxes together and make one great big box that we could walk into, but the boxes we had on hand–three lunchbox-sized boxes and one larger one that had held three bags of cereal (all of which, serendipitously, arrived in the mail last Friday)–weren't large enough for that plan. We talked about whether we could use a cardboard box to make tall paintings, but figured even with gesso, the cardboard wouldn't hold up. Plus, I didn't have any gesso on hand.
Given that my husband was also away this past week and procurement of further supplies on short notice would be difficult, the challenge became this: Pick one of the boxes we have. Given the supplies we have on hand (which is still a generous amount!), what can you do with it? Three kids. Three boxes. Three very different ideas.
The Toddler
G wanted her box taped shut again, and then she wanted to paint it, over the course of several sessions. She hasn't done much painting on a 3-D surface or, now that I think of it, on cardboard, so while simply painting the box seems, well, simple, it's new to her. When all the paint was dry, she asked for the colored masking tape so she could add some. A few hours after I took this photo, she began peeling it off. G's box is obviously a dynamic piece.
The Nine-Year-Old
V also painted his box, after (sadly, I think) abandoning his idea to make a Super Box. However, first we took his apart so that he could paint it flat. He painted two base coats of blue tempera, followed by designs with liquid acrylics, so this also took place over several sessions, to allow for drying.
When the box is glued back together, it looks completely different; also different than a box that was painted while still a box. It allows for some interesting developments, don't you think? Plus we all think it looks really cool.
The Almost-Seven-Year-Old
N chose the largest box and began turning it onto a corner, trying to figure out how he could turn a box into a pyramid. He has a couple of the small Pharaoh's Quest Lego sets, and apparently he wanted a pyramid to go with them. So we talked about the shapes we were working with. A box is made up of squares and rectangles, and a pyramid is made up of triangles. If he wanted to turn his box into a pyramid, we were going to have to do some cutting. (And Mama was going to have to do some algebra, which I've included at the very end for anyone who's interested.) We realized the original box didn't have enough cardboard for a pyramid as large as he wanted, so we used the original box for the square base and for inspiration, and we used another piece of cardboard–it's been leaning against the studio wall for months just waiting for a purpose–for the triangles.
Once he had his four triangles and the base square for the floor, which I cut out using a utility knife and straight edge (not a 6yo's job), he painted both sides brown, then added sponge prints of yellow on the side he'd chosen to face outside (the more corrugated side; we thought the lines might just mimic bricks of sand). So again, the painting took place over several sessions, with drying time in between. Then he described the kind of door he wanted, showed me where it should go, and I cut that out too, just scoring along the hinged side so it opens and shuts. We taped the triangles together on the inside, but left it so the pyramid comes off the base. That way he can set up a scene inside and put the pyramid over it. (Otherwise, you never know what the Lego guys will get up to in there.)
Thanks, Rachelle, for inviting us to participate!
Powered by Linky Tools
Click here to enter your link and view this Linky Tools list…
***
THE MATH
A pyramid is made up of equilateral triangles, that is, triangles in which all three angles are the same (60 degrees, to add up to 180) and all three sides are the same length. N wanted his pyramid about a foot tall. I didn't do that–I didn't figure out the full math until the next day, but we didn't have enough cardboard for such large triangles anyway! His is about 9 1/2 inches tall which, he told me, is plenty big enough for Lego guys. However, I used the 12 inches as a starting point to figure out how big I should make the triangles. If the height of an equilateral triangle is 12 inches, the sides should each be about 14 inches long. Why?
Remember Pythagoras? In a right triangle, that is, one with a right angle (90 degrees), a2 + b2 = c2, with c being the hypotenuse, or side across from the right angle. So I realized if I cut my equilateral triangle in half by drawing a line from the middle of one angle to the center of the opposite side, I'd have a right triangle. The hypotenuse would be twice the length of the shorter side, and if I wanted a height of 12, then I know the value of the third side.
So the Pythagorean equation becomes
122 + x2 = (2x)2
or
144 = 4x2-x2
or
144 = 3x2
or
48 = x2
so x = 6.928, which is close enough to 7 for me. Remember x represents only half a side of the final triangle, so I wanted triangles with 14-inch sides.
(I suppose I could have just gotten a protractor and gone by angles. It probably would have been easier, but far less satisfying than conquering the math.)
The next day, I tried to think through how to start with the height of the finished pyramid and work back to the triangles that form it. The interior height at the apex can be seen as one side of a triangle, with the floor forming the second side and the third side formed by the height of one of the side triangles, leaning in towards the center. (And as you know from above, once you have that measurement, you know how big your triangles are.)
When I did all the math, I reduced it to this:
(desired interior height)2 + x2 = 3x2
So for an interior height of 12 inches, I would have wanted triangles with sides that were roughly 17 inches long and a height of about 14.5 inches. If anyone wants that broken down… let me know. 🙂